The Best Laundry & Dry Cleaning Franchises
Laundry facilities are typically coin operated and require a larger upfront investment. Ongoing management costs are minimal. Whereas Dry Cleaning franchises are slightly less capital intensive upfront but require a more active and daily management of the business.
Owning a Franchise Helping Your Local Community in your area
A service-based franchise presents the perfect opportunity to buy a business for any would-be manager. Service franchises have some advantages, like immediate name recognition, existing customer-base, and marketing done for you. Here below are a few items to consider when researching and buying a franchise designed to help people in your area.
What Does It Mean to Own a Franchise in the Service Industry?
Not all service sector businesses are independently owned. For instance, even when a business in the service industry field is globally recognized, it can be owned by a corporation and operated by company employees. A franchise is purchased, and owners are franchisees who purchase the rights to open their own business.
The franchisee pays fees to the corporate office, or franchisor, as part of the agreement. In exchange, corporate has branding guidelines and handles the advertising, menus, education, conferences, and troubleshooting for all its franchisees.
What Franchises in the Service Industry Are Available?
Some can be very specific in their offerings like residential only, or just commercial while other service franchises are full-service. Prior to choosing a specific brand in the service sector, we can help you determine what might be more successful in your area and fill a market niche.
Landscaping
Roofing
Restoration Companies
Pest Control
Heating and Cooling Technicians
Painters
Window-Washers
Movers
And More
Franchise Grade helps assist you in narrowing down all the options and creating a profile of the local market to help you in choosing the best service franchises. By researching the market, the research might reveal that the locals will be completely supportive. Understanding issues like the makeup of the neighborhood, what other service franchises are operating in your area and how they do business will help you decide what service franchises to open.
We Help You Pick What Kind of Service-Related Franchises to Purchase in your area
What does it take to open your own franchises in the service industry in your area?
As your interest in owning a service-related franchise grows, reach out to our team. Starting a service-related franchise in your area has the advantages of a reputable brand, proven processes, and other technology solutions that make it a safer investment.
Laundry and Dry Cleaning Franchise Opportunities Available in all 50 States
With 17 franchise systems, there are several great business opportunities that fit your investment range.
A laundromat or dry cleaning franchise may not be an exciting business model upon first glance, but with $9 billion in revenue and strong profits, it can be a lucrative investment. More companies are creating environmentally friendly options to appeal to changing customer demands.
Sector Report
Sample research stats taken from our data in the Laundry & Dry Cleaning sector
Initial Investment
What does it cost to get into the Laundry & Dry Cleaning sector?
The average investment in the Laundry & Dry Cleaning sector is $549,005. But, that doesn't tell the whole story. There's a striking difference between the average and median.
Of all Laundry & Dry Cleaning franchises, 8 have an investment lower than $550,577. The average initial investment is skewed because the most expensive franchise in this sector is $1,134,400.
When looking at franchise opportunities make sure you examine brands within your investment range. Search below for Laundry & Dry Cleaning investments that fit your financial criteria. If you're not sure what you can afford, fill out our Franchise Affordability Calculator.
Initial Investment
Figure 1: Initial Investment required for a franchise in the Laundry & Dry Cleaning sector
Financial Transparency
Provides Item 19 Data
Figure 2: 71% of franchises in this sector have Item 19 in their FDD.
Discloses Expense Data
Figure 3: Of franchises with an Item 19, 58% disclose expense data
How much can I make in the Laundry & Dry Cleaning sector?
How much money you can make from a Laundry & Dry Cleaning franchise depends on several factors, including location and demand for your services.
One way to predict your profit potential is to evaluate the financial performance representations provided by a franchisor in Item 19 of their Franchise Disclosure Document. Franchisors are not required to disclose this information, some are more transparent than others.
In the Laundry & Dry Cleaning sector, 71% disclose a financial performance representation. Of those, only 58% disclose some type of expense data on its franchisee operations.
Unlock our Laundry & Dry Cleaning Sector Report to learn which franchises are profitable.
These statistics are a sample drawn from just two of seven grade sections we research and analyze. For a full sector report,
contact us
.
Why buy a Laundry & Dry Cleaning franchise?
Both laundry and dry cleaning franchises can be good investments as the business model is stable and well defined. Competition typically is against mom and pop locations and not other larger companies. This gives franchisees advantages in speed, price and brand awareness.
Investments available for first-time business owners
Investments available for passive investors seeking other revenue streams
Limited competition and large available territories
Defined and captive customer base who uses the services regularly
Many franchises offering financing support with flexible terms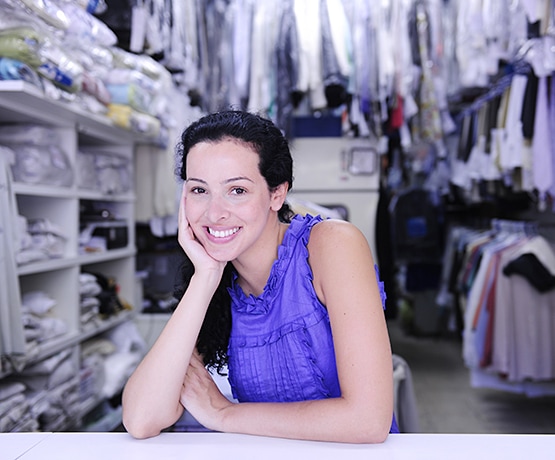 Are you an ideal candidate?
If you have access to capital and are looking for additional investments, laundromats can provide a lucrative ROI. This business model is best suited for someone who's entrepreneurial and can actively market and advertise their business well within the local territory.
Want a more detailed analysis of the Laundry & Dry Cleaning sector?
Finding the best franchise means comparing several brands to determine the ideal fit for you. Franchise Grade is dedicated to research and education, helping you make confident franchise investment decisions.
Review our stats, check out the featured franchises below, browse all the franchises within this sector, unlock the full Sector Report, or contact us — we have several franchise experts ready to help you understand and analyze the data (FREE).