Buy An Education Center Franchise Confidently With Franchise Grade
Child-centered businesses are growing up fast around the country, especially those focusing on educational development. If you're passionate about helping the next generation achieve better success in life, now is a great time to start an education center business. With the stiff competition and uncertain economic conditions facing this industry, your own chances of entrepreneurial success are boosted not by starting your business from scratch but by franchising instead.
Franchise Grade compiles listings of the best education center franchises throughout the nation. We do the hard work of analyzing the data on every education center franchise available to purchase in your specific target area, allowing you to invest with confidence.
Why Start An Education Center Business?
Today is a great time to start an education center business for children and young adults. The Children's Services sector is booming in the U.S. because of short-funded school districts cutting their after-school programs and the high demand of parents looking for child care. Education centers are most sought after for the win-win they provide of safe supervision and developing skills in children that can benefit them for a lifetime.
Opening an education center is also a win-win for people like you who are passionate about helping children and enjoy the pride and financial security of owning a business. But the high demand for your services isn't enough to guarantee success.
Like most small businesses started from scratch, those in the Children's Services sector have the odds stacked against them when it comes to reaching profitability. The high costs of establishing and operating a children's education center business on your own can be an insurmountable hurdle. But those same odds are reversed when you choose to buy an education center franchise instead.
Franchise businesses have a much better success rate than startups due to the support and proven business models provided by the corporations that license them to buyers. The current state of education center franchises, in particular, should be very attractive to investors:
Education center franchises are among the fastest growing within the Children's Services sector, and there are many open territories available to prospective buyers.
Investors who buy an education center franchise can expect excellent profit potential. The high demand among parents looking for educational services outside of school has exploded since 2020.
Most of the best education center franchises for sale offer flexible investment opportunities, including low buy-in costs and home-based options.
What Are The Advantages Of Owning An Education Center Franchise Vs. Starting One From Scratch?
Your strong desire to help children and teach them skills for a lifetime of success is noble, but you'll reach more young people and have a bigger impact if success is also achieved on the business side. It is possible to attain both your emotional and financial goals with an education center, but your odds are much better when you buy a franchise rather than start your business from scratch.
Roughly one-fifth of all businesses fail within the first two years. 60% won't make it beyond a decade. Achieving profitability is a dream that sometimes never comes true for many who start their own business, regardless of the industry. On the other hand, all of these statistics are flipped on their heads when it comes to franchises. Some studies estimate more than 90% of franchise owners are thriving two years in, and more than half are still going strong after ten years. It's not hard to understand why this is, either.
A franchise is authorization from a larger corporation allowing individuals to provide the same services under the same brand name to consumers in specific areas. The individual typically pays a buy-in fee and monthly or yearly royalties to the corporation in exchange. There are several inherent advantages to this arrangement over businesses started from the ground up:
Brand Recognition - Skip the years it takes to build a brand identity from scratch and buy an education center franchise that already has an established name. Buying a franchise means you get instant brand recognition. From day one, you also have a dedicated consumer base that knows and trusts your business.
Proven Business Model - One reason franchises are so successful is that they have a proven business model. The best education center franchises will show you a demonstrable path to success before you buy.
Turnkey Business - Investing in a franchise costs significantly less on average than a business started from the ground up. When you buy an education center franchise, you'll likely receive software for operations and payment processing, hardware -- including equipment and communications devices -- and other resources. From day one you have all the tools necessary to run and grow your business.
Expert Help And Guidance - The head corporation is invested in the success of their franchisees. Your success is theirs, and vice-versa. Many corporations offer continuing support through a dedicated staff of experts dedicated to guiding your independently-owned franchise to growth and profitability.
Marketing Help - Imagine running your own business without the stress of marketing. Not only does buying a franchise give you instant brand identity to draw in customers, but most corporations that franchise take care of much of the marketing for you. Franchise owners typically pay a monthly fee that goes into an advertising budget. The corporation often provides everything from website building to lead generation on behalf of franchise owners.
Training - Starting a business from scratch often requires a lot of trial and error and searching for training solutions for you and your staff. Franchises receive practical training from their head corporations to provide appropriate standards of service to customers on day one.
Types Of Education Centers In High Demand
The knowledge you've accumulated is valuable and can greatly benefit the next generation of adults. Education franchise opportunities exist for a vast variety of skill sets that fit the knowledge you want to impart to children. Franchise Grade has assessed that more than 209 franchise systems are currently operating in this sector. Chances are high that you'll find one perfectly suiting your investment and lifestyle goals.
Franchise Grade helps you find an education center franchise available to purchase fitting your search criteria. Children's education centers are a broad term encompassing many topics and disciplines, from Arts and Enrichment to Academic/Musical Tutoring and even Swimming. Settings at education centers may place children among their peers where they can develop stronger social skills or involve one-on-one mentoring and learning from an instructor. Even online options are blossoming out of the heightened demand for educational services outside of school.
Top Education Center Franchises Graded By Franchise Grade
Franchise Grade is the leading online resource for investor information on franchising opportunities. Find an education center franchise available to purchase using several criteria, including by state, sector, or alphabetically at FranchiseGrade.com. We perform in-depth assessments of economic conditions in particular areas as well as fundamental and technical analyses of individual franchises. If you're unsure where to start, browse through the information below on some education center franchises that have Made The Grade™.
Celebree School | Grade: A
Celebree School provides a range of educational services for preschool and grade school-aged children. They also offer infant care, backup and emergency care, as well as summer camps and before and after-school programs. Their extensive services offering, coupled with high-growth potential, makes Clebree School one of the best education center franchises available to purchase today. Franchise Grade will help you estimate how much you can earn from buying a Celebree School franchise based on your area's local demand and other financial variables.
British Swim School | MTG Top 20%
British Swim School is a fast-growing educational franchise opportunity teaching children and young adults swimming and water safety. Franchising opportunities are currently available in 21 states around the country. Buy a British Swim School franchise and realize potentially substantial profits against relatively low buy-in costs and fees. The initial franchise fee for British Swim School is near the industry average of only $39,500, and a total investment of between $93,700 and $125,850.
KidCreate Studio | MTG Top 20%
KidCreate Studio ranks in the top 20% of our Meet The Grade™ ranking system. KidCreate Studio operates children's art studios in different settings, including classes, camps, and party formats. Franchises teach art education to children aged 18 months to 12 years old. Currently operating in 7 states across the country, KidCreate Studio is expanding and looking for potential franchise partners passionate about sharing their passion with the next generation of art lovers. KidCreate Studio requires relatively low buy-in costs, fees, and working capital compared to industry averages. Franchise Grade will help you crunch the numbers in detail and provide in-depth brand knowledge.
FAQ About Finding The Perfect Education Center Franchise With Franchise Grade
Operating a business that instills skills in children they can use for success throughout their lives is immensely rewarding emotionally but also financially. Demand for educational services for children outside of school has skyrocketed since the pandemic, and the sector has a positive growth potential projected well into the future. Choosing to buy an education center franchise business rather than building one from the ground up has several advantages. Brand recognition, training, marketing, and resources are some of the tools corporations provide you from day one to grow and prosper. Franchise Grade can help you make confident decisions on which franchise to buy. Here are some frequently asked questions we get from those considering making a life-changing decision.
Who Is An Ideal Candidate To Start An Education Center Business?
Most owners of an education center franchise hold a bachelor's degree and have an educational background in the creative arts. Most are also parents but "empty-nesters" whose children are adults. If you are passionate about working with children and imparting your wisdom, you are an ideal candidate to start an education center business.
How Much Does It Cost To Buy An Education Center Franchise?
Buying an education center franchise varies but is typically less expensive than the industry average. Corporations offering their education center franchise available to purchase in your area will likely require a few different fees, including:
Initial Franchise Fee Paid To Franchisor For System Development
Additional Funds To Operate Until Turning A Profit
Royalty Rates To Franchisor
National And Local Advertising Fees
Franchise Grade will give you specific numbers pertaining to any franchise you are curious about to understand how much return you can expect on your investment.
Do Education Center Franchises Have Territory Rights?
Like any other franchise, education center franchises receive territory rights from their parent corporations. Many within this sector provide owners exclusive or protected territory rights defined by customer types or geographical boundaries. Look for larger protected territory rights to gain a bigger customer base.
Do Franchise Systems Provide Their Own Training?
You don't have to be nervous about meeting the standards of the education center franchise you buy. Corporations develop their own effective system for providing necessary training to franchise owners. They also ensure ongoing support to ensure you're always current and updated to deliver the services your customers expect. Training programs will vary depending on the complexity of services your organization offers, but there will typically be a mix of classroom and on-the-job training.
With 210 franchise systems, there are several great business opportunities that fit your investment range.
With modern concerns about children's safety, activities, development and education, parents are relying more heavily on these services for support, creating excellent opportunities to own a business in this industry. Children's Services franchises encompass a variety of unique businesses, offering services geared to children and young adults. Popular franchises in this sector focus on Arts and Enrichment, Clothing and Toys, Daycare, Educational Services, and Sports and Fitness.
Sector Report
Sample research stats taken from our data in the Children's Services sector
Initial Investment
What does it cost to get into the Children's Services sector?
The average investment in the Children's Services sector is $500,263. But, that doesn't tell the whole story. There's a striking difference between the average and median.
Of all Children's Services franchises, 105 have an investment lower than $172,417. The average initial investment is skewed because the most expensive franchise in this sector is $5,634,250.
When looking at franchise opportunities make sure you examine brands within your investment range. Search below for Children's Services investments that fit your financial criteria. If you're not sure what you can afford, fill out our Franchise Affordability Calculator.
Initial Investment
Figure 1: Initial Investment required for a franchise in the Children's Services sector
Financial Transparency
Provides Item 19 Data
Figure 2: 54% of franchises in this sector have Item 19 in their FDD.
Discloses Expense Data
Figure 3: Of franchises with an Item 19, 37% disclose expense data
How much can I make in the Children's Services sector?
How much money you can make from a Children's Services franchise depends on several factors, including location and demand for your services.
One way to predict your profit potential is to evaluate the financial performance representations provided by a franchisor in Item 19 of their Franchise Disclosure Document. Franchisors are not required to disclose this information, some are more transparent than others.
In the Children's Services sector, 54% disclose a financial performance representation. Of those, only 37% disclose some type of expense data on its franchisee operations.
Unlock our Children's Services Sector Report to learn which franchises are profitable.
These statistics are a sample drawn from just two of seven grade sections we research and analyze. For a full sector report,
contact us
.
Why buy a Children's Services franchise?
The Children's Services sector is becoming more popular in the US, partly because school districts that are strapped for funding are cutting back on available after-school programs. There's a growing variety of franchise businesses that are filling the void. This market is strong and expanding in several states.
It's a growing sector with several open territories available.
Excellent profit potential. Parents are eager to invest money in their children for services many schools don't provide.
Wide range of low-cost and home-based options available, which makes it easy to invest.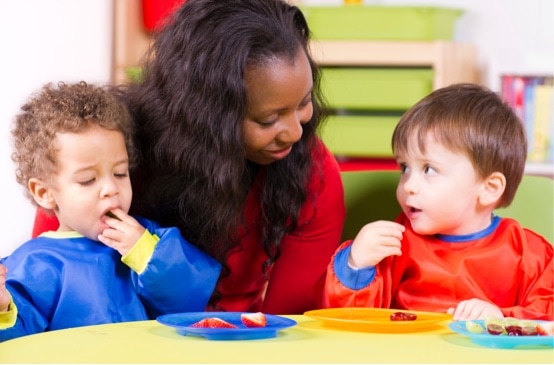 Are you an ideal candidate?
The most successful candidates in this franchise sector include people with an educational or creative arts background, or "empty-nesters" who have tenured parental experience. You need to enjoy working with children and providing services to young people.
Want a more detailed analysis of the Children's Services sector?
Finding the best franchise means comparing several brands to determine the ideal fit for you. Franchise Grade is dedicated to research and education, helping you make confident franchise investment decisions.
Review our stats, check out the featured franchises below, browse all the franchises within this sector, unlock the full Sector Report, or contact us — we have several franchise experts ready to help you understand and analyze the data (FREE).