Hot Coffee Franchises Are Big Business
Starting a coffee or tea franchise from scratch will be tough when competing with many stable chain brands like Starbucks. Some larger franchises like Dunkin' are saturated in the market and are not typically seeking new investors. But several regional brands are expanding their markets, are looking for new franchisees and have loyal customer bases that generate recurring revenue.
Purchasing a Franchise Restaurant in your area
A franchise in the food-service industry presents an excellent chance to start a new business for many would-be restaurateurs. Restaurant franchises have many benefits, such as instant brand awareness, existing customer-base, and built-in marketing. But, when you're buying a franchise in the food-service industry, you will want to make certain you pick a brand that is the best possible fit for you. Here below are some things to think about when finding and buying a restaurant franchise in your area.
What is a Restaurant Franchise?
Not all restaurant chains are franchises. The case could be that, even though a restaurant is instantly recognized, it can be corporate-owned and run by company employees. A franchise restaurant is awarded, and owners are franchisees who buy the rights to open and operate a location.
The franchisee pays a percentage to the corporate office as part of the deal. In exchange, the franchisor has branding guidelines and handles the marketing, menu design, education, conferences, and troubleshooting for all its franchisees.
What Food-Industry Franchises Are Available?
There are many different types of restaurant franchises you could buy. You could go in on a fast-food restaurant, quick service, fast-casual, counter walk-up, sit-down, food truck, or even base your selection on a meal-specific restaurant and only serve dessert or breakfast. You'll have better results with an establishment that meets your needs and gels with what corporate wants, so get in touch with us to finalize that part of the franchisee.
We can help you recognize what the neighborhood lacks in your area and look into available options to fill those gaps so you have a slice of the open market. With our help, you will understand the local area's economy, average household income, and other identifiers to make an educated choice when purchasing a restaurant franchise. Market research may show what is missing in your area and what kind of establishment the people want.
We Help You Select What Type of Restaurant to Purchase in your area
What does it take to own your own restaurant in your area?
As your interest in owning a franchise restaurant grows, get in touch with our team. Buying a restaurant franchise in your area has the advantages of a reputable brand, time-tested processes, and other advanced solutions that make it a safer investment.
Americans love their coffee so much it's almost an addiction!
With 110 franchise systems, there are several great business opportunities that fit your investment range.
Several large brands like Dunkin' Donuts or Starbucks are staples in America. Yet, with over $28 billion in annual revenue, there is room for several other regional competitors that carve out niche markets across the country that do quite well.
Sector Report
Sample research stats taken from our data in the Coffee, Bakery and Snacks sector
Initial Investment
What does it cost to get into the Coffee, Bakery and Snacks sector?
The average investment in the Coffee, Bakery and Snacks sector is $424,315. But, that doesn't tell the whole story. There's a striking difference between the average and median.
Of all Coffee, Bakery and Snacks franchises, 54 have an investment lower than $332,350. The average initial investment is skewed because the most expensive franchise in this sector is $2,055,164.
When looking at franchise opportunities make sure you examine brands within your investment range. Search below for Coffee, Bakery and Snacks investments that fit your financial criteria. If you're not sure what you can afford, fill out our Franchise Affordability Calculator.
Initial Investment
Figure 1: Initial Investment required for a franchise in the Coffee, Bakery and Snacks sector
Financial Transparency
Provides Item 19 Data
Figure 2: 52% of franchises in this sector have Item 19 in their FDD.
Discloses Expense Data
Figure 3: Of franchises with an Item 19, 51% disclose expense data
How much can I make in the Coffee, Bakery and Snacks sector?
How much money you can make from a Coffee, Bakery and Snacks franchise depends on several factors, including location and demand for your services.
One way to predict your profit potential is to evaluate the financial performance representations provided by a franchisor in Item 19 of their Franchise Disclosure Document. Franchisors are not required to disclose this information, some are more transparent than others.
In the Coffee, Bakery and Snacks sector, 52% disclose a financial performance representation. Of those, only 51% disclose some type of expense data on its franchisee operations.
Unlock our Coffee, Bakery and Snacks Sector Report to learn which franchises are profitable.
These statistics are a sample drawn from just two of seven grade sections we research and analyze. For a full sector report,
contact us
.
Why buy a Coffee, Bakery and Snacks franchise?
Niche brands are creating loyal followings for iced coffee, bubble tea, or specialty tea. Location is key for walk-in and drive-thru traffic and is one key factor to consider.
Hot drink market is expected to grow by 2.9% over the next two years.
Customers are loyal and repeat business is typical.
Niche markets like espresso, bubble tea, or iced coffee are expanding.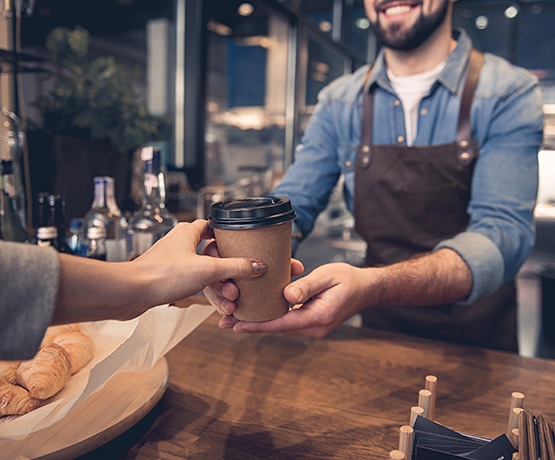 Want a more detailed analysis of the Coffee, Bakery and Snacks sector?
Finding the best franchise means comparing several brands to determine the ideal fit for you. Franchise Grade is dedicated to research and education, helping you make confident franchise investment decisions.
Review our stats, check out the featured franchises below, browse all the franchises within this sector, unlock the full Sector Report, or contact us — we have several franchise experts ready to help you understand and analyze the data (FREE).